UNSURPASSED PRECISION & WORKMANSHIP WILL GIVE YEARS OF TROUBLE FREE WORK
MODELS WITH MECHANICAL CLUTCH & NOISE-FREE GEARBOX
With programmable NC front operated power backguage

from 4 ft. to 10 ft. in length by 12Ga. to 5/32" in thickness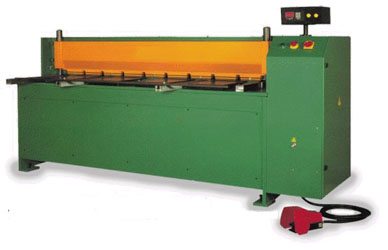 8' 4" X 5/32" MODEL 2560 X 4
STANDARD EQUIPMENT & FEATURES:
Heavy duty all steel solid plate construction of side frames, work table and cutting beam, provide maximum rigidity and accuracy (except model 1260 x 2.5 with cast iron side frames)
Transmission though noiseless reduction gearbox and flywheel by mechanical clutch
Table with recesses provides easy access to manipulate and handle material
Manual 20" backgauge with rule
Side squaring arm with rule
Front gauge and support arms for shearing wide plate or miter cutting
High carbon/high chrome (HC/HC) shear blades hardened to 58 Rockwell "C"
Spring loaded front holddown beam
Adjustable slideways for cutting beam
Blade gap adjustment system
Safety mechanism to prevent blade overlap
Food pedal control for single or continuous cutting
Electrics 220 or 440 or 600/60/3
Operating, maintenance & spare parts manual

OPTIONAL EQUIPMENT:
Programmable NC front operated power backgauge with digital inch/metric display. 20" Travel. Manual or automatic positioning. Stroke counter. Automatic positioning of gauge to any of 10 programmable positions. Gauge always approaches position from the same direction to eliminate backlash.
| | | | | |
| --- | --- | --- | --- | --- |
| MODEL | 1260 x 2.5 | 2060 x 4 | 2560 x 4 | 3100 x 3.4 |
| Capacity | 4' x 12 Ga. | 6'8" x 5/32" | 8'4" x 5/32" | 10' x 10 Ga. |
| Cutting length | 4'1" | 6'8" | 8'4" | 10'1" |
| Shearing capacity: | 12 Ga. | 5/32" | 5/32" | 10 Ga. |
| Stainless Steel | 16 Ga. | 12 Ga. | 12 Ga. | 14 Ga. |
| Strokes/Minute full length | 80 | 48 | 48 | 36 |
| Rake angle | 2¡ | 2¡ | 1.6¡ | 1.6¡ |
| Backgauge range | 20" | 20" | 20" | 20" |
| Motor power | 4 hp | 7.5 hp | 10 hp | 10 hp |
| | 74" | 111" | 131" | 150" |
| | 53" | 77" | 77" | 80" |
| | 41" | 48" | 48" | 48" |
| | 1,780 lbs | 5,720 lbs | 6,840 lbs | 8,000 lbs |