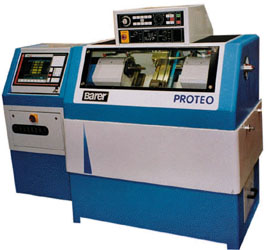 The BARER®-PROTEO® Model TL-25. 6-axis CNC opposed spindle turn/mill center offers the ultimate in machining design and CNC capability for milling and turning of complex parts in ONE SETUP. Features include:
4 linear and 2 spindle axes
4 axis simultaneous interpolation of live milling tools
Part transfer from spindle to spindle for cut-off and end finishing
Opposed 5 HP, 6,000 RPM (optional 8,000 RPM) spindles 1"bar capacity, may be bar fed from either side
Scale feedback accuracy to 0.00008"
Available in several configurations:
High speed spindles to 60,000RPM
Tracing - Digitizing
Graphite milling
GE Fanuc or Fagor CNC
Full enclosure, stand alone control, coolant, pneumatic drawbar all standard equipment